Robert Vernier, MD (2014)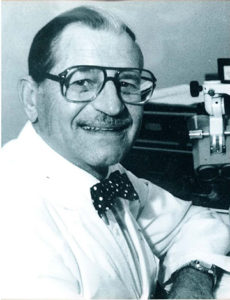 Robert Vernier passed away on May 2, 2014. He died peacefully of heart failure at his daughter's home.
As many of you know, Bob Vernier made historic clinical and scientific contributions to pediatric nephrology research and patient care. His early leadership in national and international organizations played an important role in establishing a specialty position for pediatric nephrology. His pioneering application of percutaneous kidney biopsy and electron microscopy to the diagnosis of pediatric kidney disease continue to influence on a daily basis the quality of care provided by pediatric nephrologists. His bibliography catalogues a rich lifetime of important, innovative and prolific basic and clinical research accomplishments matched by few in our field. Bob championed the development of aggressive therapy for congenital nephrotic syndrome with the result that these children routinely survive and lead productive lives after kidney transplantation.
Bob's collaboration in the 1950s and 1960s with Marilyn Farquhar and Robert Good established percutaneous kidney biopsy as a diagnostic tool in pediatric nephrology and created the foundation for our understanding of the ultrastructure of normal and diseased kidneys. The fundamental importance of this work cannot be overstated, including the first demonstration of the glomerular epithelial cell slit pore filtration apparatus. His bibliography includes landmark studies of childhood nephrotic syndrome, anaphylactoid purpura, renal ontogenesis, the glomerulopathy of cyanotic congenital heart disease, Goodpasture syndrome, postinfectious glomerulonephritis, experimental renal cystic disease, membranoproliferative glomerulonephritis, nail-patella syndrome, congenital nephrotic syndrome, mesangial function, immunosuppressive treatment of lupus nephritis and other nephridities, immune complex formation, dense deposit disease, IgA nephropathy, familial nephritis and the role of the membrane attack complex in glomerulonephritis.
Bob trained several generations of pediatric nephrologists who have practiced, taught and conducted research all over the world. Through his pupils, whom he taught with infinite kindness and patience, his influence will be perpetuated indefinitely. The training program he developed with Al Michael produced well over 100 pediatric nephrologists, the great majority of whom went on to full-time faculty positions. Through the clinical and academic productivity of these physician-scientists Bob exponentially amplified his own extraordinary zeal for clinical care and research.
A further legacy encompasses two organizations he helped to found and lead: the American Society of Nephrology (President, 1979-80) and the American Society of Pediatric Nephrology (President, 1976-77). He gave outstanding service to the National Kidney Foundation, including the founding of the Kidney Foundation of the Upper Midwest. He also served in a variety of capacities for the American Heart Association and the National Institutes of Health and was a member of numerous editorial boards. Bob's awards included the Distinguished Service to Research Award of the American Heart Association (1972), the Kidney Award (now known as the Henry L. Barnett Award) of the American Academy of Pediatrics (1993), the John Peters Award of the American Society of Nephrology (1996) and the Founders Award of the American Society of Pediatric Nephrology (2008). Bob shared the Peters and Founders Awards with Clark West, another giant of our field.
Bob's legacy is assured. His name may one day fade from memory, but his influence will be felt wherever children with kidney disease receive care from knowledgeable and compassionate physicians.
Clifford E. Kashtan, M.D., F.A.S.N.
University of Minnesota Children's Hospital