ASPN 5th Annual Multidisciplinary Symposium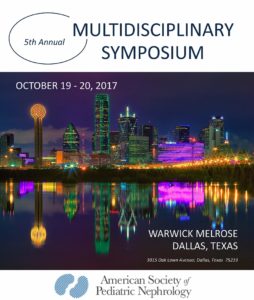 Meeting Location
Warwick Melrose Dallas
3015 Oak Lawn Avenue
Dallas, TX 75219
214-521-5151
www.warwickhotels.com
CONTACT HOURS will be offered for Nurses, Dietitians, Child Life Specialists and Social Workers
EDUCATION includes Urologic Biofeedback (Thursday Keynote)
Monitoring Compliance
Dealing with Tween and Teen Attitudes
Cultural Competency
Phosphorus: Essetinal Nutrient or Potenal Poison?
Interacting with School Services
Immunizaon in CKD & Immunosuppressed Patients
Family Panel: Living the Renal Diet
Controlling Labs in Formula-Fed Patients
EARLY REGISTRATION ends October 6, 2017
FEES:
BY October 6, 2017
AFTER October 6, 2017
ASPN Affiliate Members
$150.00
$170.00
Non-members
$175.00
$195.00
Hotel
Hotel rooms are available on a first come, first served basis at the meeting location, the Warwick Hotel. A discounted rate of $159 is available to meeting attendees. Call 214-521-5151 or 800-521-7172 to reserve a room.
Cancellation Policy
All registration cancellations must be received in writing. A $25 administration fee will be assessed for all cancellation requests received by October 1, 2017. Cancellations received after October 1, 2017 will not be eligible for a refund. All reimbursements will be processed following the meeting.
MEETING AGENDA
Click here for the October 19-20 Agenda.
POSTER ABSTRACTS
Abstract submissions will be accepted through October 6, 2017. Please submit abstracts via email to Bonnie Freshly at bfreshly@verizon.net
ADDITIONAL INFORMATION
Hotel parking: Overnight valet parking is available at $16.00 ++ per day. Event (daily) parking is available at $10.00++ per day. The hotel offers a complimentary shuttle within a three-mile radius of the hotel, based on availability.
Airport transport: Love Field is approximately 10-15 minutes from the Warwick, which offers a complimentary, on-demand car service between 7AM – 10:30 PM. DFW Airport is approximately 35-40 minutes from the Warwick. Taxi and Uber are available, with fares ranging from $35-60. Dallas tourism information: The Dallas Convention & Visitors Bureau offers a great deal of visitor information at www.visitdallas.com. The hotel website also provides information at warwickhotels.com/dallas/explore-dallas/.
Please contact bfreshly@verizon.net or call 804-874-1097 for more information.