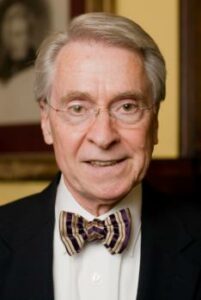 Arant, Billy S., Jr.
Pediatric Nephrologist Collected Antique Furniture And Rare Books
Billy S. Arant, Jr., M.D. of Chattanooga died on September 12, 2023, after a long illness.
He was a native South Carolinian–born in Greer on Aug. 21, 1940, and raised in Pageland. He is preceded in death by his parents Billy S. Arant, Sr. and Helen H. Arant.
He is survived by his wife of 47 years, Margaret Jackson Arant; daughter Meghan Thompson and her husband, Jason; son Peter Arant and his wife, Alicia; sister Anna Seastrunk; five grandchildren, Caleb Thompson, Maisie Thompson, Rosie Arant, Opal Arant, and Beatrice Arant; brother-in-law Kent Jackson; and nieces and nephews.
Billy described his parents as Depression-era, small-town farmers. Besides helping at his family farm, his first job earning money was picking cotton when he was six. He later swept the floors at a feed store at eight. He helped at the family Chrysler dealership, and he served as the town's school bus driver his senior year of high school.
Billy completed his undergraduate degree at Clemson University in 1961 and his medical degree at Medical University of South Carolina in 1965. He completed a residency in pediatrics at the Medical College of Virginia in 1968, before serving in the United States Army Medical Corps in 1968-1970 during the Vietnam War. During Vietnam, he was stationed at Fort Monmouth, NJ where he treated children of soldiers. In 1970-1973, he completed a postdoctoral fellowship at Albert Einstein College of Medicine in New York.
Billy held academic appointments in the field of pediatric nephrology at the University of Tennessee, Health Sciences in Memphis, TN (1973-1980); University of Texas, Southwestern Medical Center in Dallas, TX (1980-1992); and the University of Tennessee, College of Medicine in Chattanooga (1992-2009). In 1992-1997, he was medical director at Children's Hospital at Erlanger. Towards the latter part of his career, he shifted his focus to hypertension and lipidology for patients of all ages. In 2000, Billy helped to establish the Hypertension Management Center at Erlanger Hospital, where he continued to work until fully retiring in 2016. During his career, he contributed to more than 200 publications, presented his research in the U.S. and abroad, received numerous awards, and testified 11 times before Congress.
Billy was a collector of antique furniture and rare books. He restored three homes built in the early 1900's, with an emphasis on preserving their historic character. Billy was a master gardener, a seeker of the perfect biscuit recipe, and a lover of German Shepherds.
He accepted Jesus as his Lord and personal savior as a child. As a young adult, he played the piano and organ at various churches. He also sang in numerous church choirs throughout his life. He was a member of Calvary Chapel Chattanooga.
The family will receive friends at Calvary Chapel Chattanooga on Sept. 21, from 5-7 p.m. A private ceremony will be held the following day at the National Cemetery.
In lieu of flowers, the family requests donations be made to Children's Hospital at Erlanger; Praying Friends of the Bridegroom (a non-profit which supports orphanages abroad), P.O. Box 23353, Chattanooga, Tn. 37422; Calvary Chapel Chattanooga; or to a charity or church of choice.