Paul T. McEnery, MD (2019)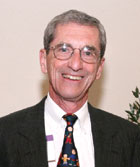 Paul T. McEnery, MD, MBA, Professor Emeritus, University of Cincinnati College of Medicine, passed away on March 28, 2019 at home after a long battle with heart failure.
After completing a pediatric residency and nephrology fellowship at Cincinnati Children's Hospital Medical Center (CCHMC), Paul became the second nephrology faculty in 1970, joining Dr. Clark West in launching one of the most successful programs in pediatric nephrology
During his illustrious career, Paul made numerous unique contributions to CCHMC including introducing the percutaneous renal biopsy technique in 1969 and starting the dedicated pediatric dialysis unit in 1972. This unit was one of the very first in the nation that included hemodialysis and home training for peritoneal dialysis for children. He was also the Director of the Nephrology Clinical Laboratory for several years, and oversaw the development of complement assays that are still in use today. He pioneered and directed the Kidney Transplantation program, which grew into one of the busiest in the country. In addition, Paul was very active in many hospital committees, the Cincinnati Pediatric Society, the American Society for Pediatric Nephrology, and International Pediatric Nephrology Association. He served as the President of the American Society for Pediatric Nephrology in 1983. To advance his administrative skills he obtained an MBA from Xavier University in 1989. He authored more than 70 peer-reviewed publications, including game-changing works in membranoproliferative glomerulonephritis, nephrotic syndromes, and chronic kidney diseases that are still taught to trainees today.
Always the quintessential gentleman, Paul will be deeply missed by his wife Charlotte, his daughters, Christina Dumont MD, Jennifer Finn and Emily Moriarty, his many friends, colleagues and patients.
Submitted by Prasad Devarajan.