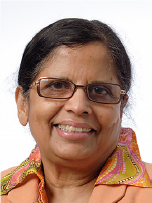 It is with profound sadness that we announce the passing of our colleague and friend, Dr. Eunice John. Dr. John retired as Professor of Pediatrics at the University of Illinois College of Medicine after serving UIC residents and patients for 42 years.
Dr. John, who was chief of pediatric nephrology and medical director of pediatric transplant at UI Health, was a revered leader in kidney transplant innovations and outcomes. She was the first Chicago physician to start long-term peritoneal dialysis and to use the double lumen catheter of hemodialysis in children in the early 1980s. In 2002, Dr. John performed the first pediatric living-donor bowel transplant in partnership with Dr. Enrico Benedetti, the Warren H. Cole Chair of Surgery. The patient, who is now in his 20s, is the longest living recipient of this type of surgery.
Dr. John was a graduate of Christian Medical College in Vellore, India. She completed a residency at Tulane University and a fellowship in pediatric nephrology at the Yeshiva University, Albert Einstein College of Medicine. She was a member of the U.S. Army Reserve for 16 years.
She had an impressive record of scholarly activity, with more than 100 publications on her CV. She obtained such funding as CkID and NIH grants, and she was sought after throughout the world as an invited speaker. But she would want the emphasis to be on the ways that she furthered her area of study by helping others to succeed. Dr. John created a lasting impact through her tireless work with patients and young physicians. She was deeply committed to community service, spearheading a wide range of programs for children and families both local and abroad. As a testament to her excellence, she received 15 teaching and mentoring awards, more than 15 service awards, and 5 patient care awards from UI Health.
Dr. John had a compassionate approach to all aspects of her profession, and she was a remarkably generous person. She was devoted to her family members, particularly her late sister (Iris P. Samuel) and her children (Smitha and Suneeth Samuel). Arrangements have been made with Smith-Corcoran Funeral Home at 6150 North Cicero Avenue in Chicago: funeral service on Saturday, June 8, at 11 am; and visitation on Friday, June 7, from 3 to 8 pm. Internment will be in the Bohemian National Cemetery. For the obituary and details, please visit the Smith-Corcoran website. The Department of Pediatrics will have a memorial grand rounds in Dr. John's honor on September 20, 2019.
It was an incredible privilege to work alongside Dr. John. She will be forever remembered as an extraordinary clinician, educator, leader, and human being with unparalleled devotion and kindness.
Benjamin W. Van Voorhees, MD,
MPH Professor and Head, Department of Pediatrics